Arantxa's Life in Word and Image
---
With A Grand Slam Title Comes Change (1989-1991)
---
Arantxa prepares herself

to compete at the highest level
THE FRENCH! 1989
Early on, Arantxa had two firm but equal tennis goals: to win the French Open and to be Number One in the World. She knew she could achieve them if she worked hard enough; she also knew the road ahead would.not be an easy one and the sacrifices she would need to make would be legion. Undaunted, she dedicated every inch of her being to her goals.
Seeded 7th in the 1989 French, however, as the tournament began even Arantxa herself could not have known that Fate would take her so far. She knew she was in good condition both physically and mentally; that she had taken the title in Belgium against more seasoned players like Isabel Cuoto and Mercedes Paz had boosted her confidence level to the sky. And she had gotten as far as her seeding in the French the year before.
Her early draw was not that difficult, but the quarters and semis looked ominous -- those in the know would predict she would again uphold her seeding, making it through the Round of 16, but no further. But those in the know are not Arantxa! She burst into the quarterfinals to face a very familiar foe, Gabriela Sabatini. Similar in temperament and both loving clay, Arantxa and Gaby had duked it out several times before on clay, where Gaby largely came away the victor. But this year would be different. Brimming with confidence, Arantxa defeated Gaby for only the second time on clay, earning herself a meeting with Mary Joe Fernandez in the semis and the unenviable task of facing "die Grafin" in the finals.
Had the Vegas bookmakers been there, no doubt Arantxa would have been at least a 100-to-1 long shot in this match. Steffi Graf had just won 5 consecutive Grand Slams titles, 8 of the last 9 played, including the "Golden Slam" in 1988 by also taking home Olympic Gold. If ever a player seems invimcible, surely it was Steffi at this stage of her career. Just the year before at this same event, Steffi had made mincemeat out of Natalia Zvereva winning 6-0, 6-0 in well under an hour. When giving her pre-match interview, the press had expected Arantxa to answer much as Natasha had the year before, "No one can beat Graf; the title is hers."
Arantxa, however, had other thoughts in her young head. Carefully she laid out a plan of attack against Steffi and relayed that to the stunned press corps, "I play my own game, be patience and wait for her to be tired." (after all, Steffi was an aged 19 years old; Arantxa felt her youthful 17 held her in good stead). Her answer to the question of Steffi's invincibilty was quiet different from the previous year, "She is not a god. I come to play Steffi Graf, not pray to her." Full of herself, labeled "cocky" by the press, Arantxa had come to play not pray and was determined that that would be shown in the only venue that mattered to her -- on the terre battue of Roland Garros.
| | |
| --- | --- |
| | French Open, 1989 |
Wimbledon 1989 (RReggi) Grass had never been Arantxa's favorite surface; in fact in Spain in general, grass as a tennis plying surface is generally poo-poo-ed. "L'hierba es por las vacas!"("Grass is for cows!") it was said in Spain.
"DROP SHOT Story" -- gets to QF!!

US OPEN, 1989 -- also reaches QF! VA SLIMS NYC, 1989 -- first appearence END, 1989

Australian - 1990 -- dnp




French 1990 -- 1st round bye; 2nd round loss to Mercedes Paz




Wimbledon 1990 -- loss in 1st Round also




MILESTONE: First Grass Court Singles Title: Newport (Connecticut) Hall of Fame Classic 1990




US Open 1990 -- lost to Steffi in semis

Virginia Slims, NYC 1990 -- lost to Monica in Qtrs 7-5, 6-7, 4-6
--match lasted over 2 hours of "highest quality" tennis

Arantxa with

Emilio

circa 1990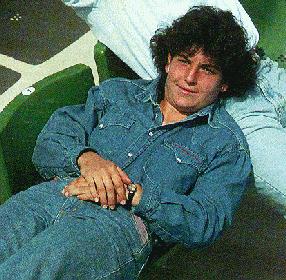 end 1990
---
begin 1991
Australian Open -- 1st year to play/got to SF
Lipton Championships - 1991
French Open -- 1991 French Final agst Monica (defeated Steffi in semis/outfit as below)
Wimbledon 91-- got to QF
Arantxa in
Hamburg, Germany
1991
1991 Singles Title: Washington, DC
1991 US Open -- to QF
Mixed doubles with Emilio
END 1991
To continue this photoessay, click here