Arantxa's Life in Word and Image
---
The Early Pro Years (1985-1988)
---
---



Early successes: Spanish National Title, 1984 -- at age 13
Got to meet and train some with Spanish tennis greats





Turned Professional June, 1985 -- at age 14



Reached her first Professional Singles final in 1986:
Argentinian Open in Buenos Aires
defeated by Gabriella Sabatini

Also in 1986, won her first Professional Doubles title:
Athens Open with partner Isabel Cuerto


1987: Reached the QF of the French Open;
1st round of Wimb and US Open; dnp in Australia


85 Barcelona/Q 13 Jun 1985 Spain Outdoor/Clay Draw: 32
R32 L Holikova, Andrea 6-3 6-1 Yr-To-Date - - S+D Usd 100
-------------------------------------------------------------
86 Ita/Monviso 18 Apr 86 Italy Outdoor/Clay Draw: 32
R32 L Moos, Karen 6-3 6-1 - - - Yr-To-Date - - - - Usd 125 ---------------------------------------------------------------
86 Barcelona 11 May 86 Spain Outdoor/Clay Draw: 32
R32 W Schropp, Miriam 7-5 6-3
R16 W Byrne, Jenny 6-2 6-1
QF W Herreman, Nathalie 5-7 7-6 7-5 (7-4)
SF L Huber, Petra 6-0 2-6 6-4
- - Yr-To-Date -S+D Usd 2,587 ----------------------------------------------------------------
86 European Open 25 May 86 Lugano, Sw Outdoor/Clay Draw: 64
R64 W Schmid, Susanne 6-1 6-3
R32 L Phelps, Terry 6-1 6-0
Yr-To-Date - - S+D Usd 3,112 ---------------------------------------------------------------
86 French Open/Q 09 Jun 86 Paris, Fra Outdoor/Clay Draw: 64
R64 L Madruga-Osses, Ivanna 6-4 6-1
- - Yr-To-Date -S+D Usd 3,112 ----------------------------------------------------------------



---
1988 - An Important Year for Arantxa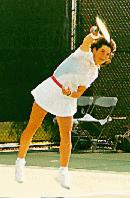 Eckerd Open (Hard-Tru Clay Court) Championships; Tampa, FL
One of Arantxa's favorite tournaments on the US was a tournament that was held in Tampa, Florida. She liked everything about it -- the atmosphere of the city (Tampa has deep and rich Hispanic roots and great Hispanic food); the venue itself with her favorite surface, green (Har-Tru) clay. But most of all, Arantxa knew that she would have a chance to test herself against the best clay-courters of the time at this small but popular venue.
When Arantxa was a child, she had seen Chris Evert on TV winning the French Open, the Grand Slam most near and dear to the hearts of the Spanish. Arantxa's dream of meeting this "idol" (whom she considered the best woman on clay) came true in 1988 at this tournament. Arantxa won that honor by battling her way all the way to the final. Nervous confident, Arantxa played her heart out that day and managed to take Chris to a tiebreak in the first set, but eventually she was defeated by Chris 7-6, 6-4.
Still, being able to "hang in there" with her idol bolstered Arantxa's confidence considerably. Fate was also on her side. Less than three months later, Arantxa had the opportunity to face Chrissie again -- this time on the terre battue of Roland Garros in the third round of the 1988 French Open. But this time the results would be reversed, for Arantxa would prevail 6-1, 7-6 (7-4). Chrissie has often has said that she had felt that March in Tampa that Arantxa would soon be a force to be reckoned with and, to this day, we are not sure that Chrissie has forgiven the "little upstart" for that victory in the 1988 French!
Arantxa went on to get to the Quarterfinals in that year's French Open, her farthest progression to that date. In the other 1988 Grand Slam events, she equaled her 1987 record of getting to the 1st Round of Wimbeldon and bettering her US Open record by reaching the 4th Round there.
Less than one month after the French Open, Arantxa would add another jewel to her already impressive list of tennis accomplishments:
Her FIRST PRO TITLE: Belgian Open - July 17,1988
where she defeated Raphaella Reggi 6-0, 7-5
WTA Tour Awards:

WTA Most Promising Newcomer: 1987

Most Improved Player: 1988 and 1989
To continue this photoessay, click here
[photos from El Forgea de Campaones @1990, La Familia Sanchez]